About Paul Budde
Paul Budde is one of the world's foremost telecommunications management and business consultants. His expertise lies in his ability to analyse the telecommunications, internet, e-commerce and broadcasting markets, and to identify major business trends and developments in the digital, sharing and interconnected economy.
Paul's extensive market knowledge, global network and strategic business advice can assist organisations and industry sectors to transform themselves, enabling them to take advantage of opportunities created by the digital economy.
For media references about Paul click here.
Investment and Business Advisor
Paul's wide-ranging experience in the telecommunications and digital media markets has enabled him to advise over 100 investment companies on individual transactions as well as on the implications of changes to the markets and to the organisations working within them. Furthermore, his customised workshops are used by businesses on four continents.
Paul can assist investors in analysing business plans as well as assisting organisations in developing business plans as well as providing expert reports for inclusion in prospectuses.
Government Policy Specialist
Over the last decade Paul has become established as one of the world's foremost advisors on the deployment of national broadband networks. He has worked with the governments of the USA, UK, Netherlands, Ireland, New Zealand and Qatar where he has successfully provided a vision, linked to policy and business strategies, which shows that high-speed broadband is essential national infrastructure needed to ensure the next stage of social and economic development. He was strategic advisor to the Australian Minister for Broadband and the Digital Economy for the original fibre-to-the-home national broadband network.
Smart Cities
In 2001 he started UtiliTel. He brought most of the Australian electricity distribution companies together to discuss the business opportunities that existed for the utilities in using their infrastructure for the purposes of telecommunications.
The nature of this initiative changed from an external business opportunity to an internal smart grid approach. For that purpose he transformed Utilitel into Smart Grid Australia and in the same year also became a founding director of the Global Smart Grid Federation, representing over 25 national smart energy alliances across the world.
Paul was asked by the government to come up with a proposal for what became the Smart Grid, Smart City project. They asked for funding of $50 million and received $100 million.
In 2015 he was asked to address the ISGAN conference in Lecco, Italy, on 'the role of communication as a critical enabler of smart grid systems'. (ISGAN is the short name for the ministerial organisation of the International Energy Agency (IEA) in charge of the Implementing Agreement for a Co-operative Programme on Smart Grids.)
Also in 2001 he established the Broadbanding of Local Councils initiative, and over the following 15 years he advised over 50 local councils on how to become a smart city, of which the infrastructure elements are broadband and smart energy. He stablished the Smart City Industry Board and Smart City R&D Group for the Australian Smart Communities Association, he also organised the first Smart City Mayors Conference and is a director of the Global Smart City and Community Coalition (GSC3).
He has been a keynote speaker at smart city and smart energy conferences in Washington, Dallas, Amsterdam, Tokyo, Milan, Sydney, Melbourne, Auckland, Wellington, Chennai, Beijing and Kuala Lumpur.
Advisor to UN Broadband Commission
Paul was the co-initiator of UN Broadband Commission for Digital Development.
This Commission promotes the use of high-speed broadband communication networks for the social and economic benefit of people all over the world. Paul was also a special advisor during the mandate period from 2009 to 2015.
Management Briefings and Business Plans
Executive Briefings
Paul Budde's executive briefings are designed to analyse current industry and market trends and to predict future directions. They are based on a combination of research and over 30 years of expert professional opinion.
The analysis spans the value chain – from content, to infrastructure, to end-users – making it possible to confidently predict the real factors, direct and indirect, influencing the rollout and uptake of new products and services.
The briefings also offer an analysis of opportunities and risks, and give a strategically-focussed view of future directions in the telecommunications industry.
Competitive Briefings
With his long term involvement in the industry Paul is in a prime position to provide insights into the strategies, opportunities and pitfalls in the competitive telecoms environment, pinpointing the strategic directions being taken by these organisations and offer a reasoned perspective on their short- and long-term business prospects.
Board Presentations
Paul regularly prepares and delivers board-level presentations on a range of topics, tailored to the individual needs of the client organisation.
He gives an objective and balanced view of the market, identifying issues and opportunities for the client's business. The presentation concludes with an open discussion.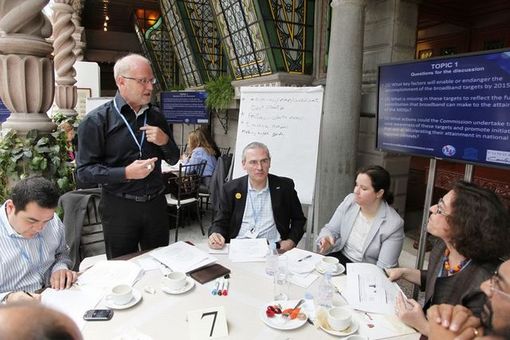 Customised In-house Workshops
Paul's customised 3 hour, in-house workshops, consist of a combination of presentations and discussion encouraging interaction between all participants.  Topics cover a range of subjects including:
Transformation of the telecoms industry – investment focus
Governments back in telecoms – policy focus
Global developments – international focus
Industry and market opportunities – industry focus
Close Personally conducted by Paul Budde, our 3 hour In-house workshops are tailor-made to suit the needs of our clients.
Below is a list of the topics most recently requested by our key clients (investment houses, governments and industry).
Transformation of the telecoms industry – investment focus
What are the risks and opportunities in this transformation?
How to become a smart city? – local government
Deconstruction and reconstruction of the industry (mergers and acquisitions)
Who are the winners and losers?
Infrastructure – utility – construction
Increased role for IT in telecoms
Retail will move to the edge
The impact of national broadband networks on the industry and the market.
Governments back in telecoms – policy focus
Policy development for digital productivity.
Essential fibre infrastructure for many sectors
Holistic policies needed for e-investments (health, education, energy)
Social and economic benefits occur elsewhere
Public and private funding – PPP models
Government policies and regulatory reforms
UN Broadband Commission for Digital Development
Global developments – international focus
Australia's National Broadband Network – setting the scene
The American National Broadband Plan
Digital productivity in the Netherlands
The Ultra-Fast Broadband Network in New Zealand
Broadband a human right in Finland
The cooperative approach towards infrastructure in Scandinavia
The cultural differences in Asia and its effect on telecoms policies
The mobile boom in Africa, Asia and Latin America (followed by new fixed infrastructure investments)
Industry and market opportunities – industry focus
Overview of the major markets (telecoms, broadband, mobile, digital media)
Overview and SWAT analyses of the major players
Policies and regulations
Middle- and long-term forecasts
Business opportunities (specific to the individual customer)
A typical workshop begins with a 60-90 minute presentation, which can be interactive. This is followed by a discussion for approximately 60-90 minutes (questions, specific topics etc).
Eight is the maximum number for workshop participants.
3i Asia Limited
AAPT
ABN/AMRO
Aberdeen Asset Management Asia Ltd
AEGON Asset Management
Allens Linklaters
Altocor Inc (USA)
AMBC Camipat Partners
Amcom
ANZ Investment Bank
AP Wireless
Ascend
AT&T
Aurecon
Ausgrid
Australian Government (NBN, Smart Grids)
Avirnex Communications
Azure Capital
Babcock Brown
BAM +SSB
Baring Asset Management
Batey Kazoo
Bell Resources
BlackRock
BMC Software
Boyer Allan Investment Mngm
BP Australia
British Government  (Trade & Investments)
Broad Peak Investm. Adv. P/L
Capella Capital
Capital Research Global Investors
Capital World Investors
C&W Optus
Chase Manhattan Bank
Cisco Systems Australia
City of Sydney
Comgest
Compaq
Computer Associates
Compuware
Daiwa Asset Management
Deutsche Asset Management (Hong Kong) Ltd
Energex
Ericsson Australia Pty Ltd
Ernst & Young
EWorld
Fidelity International
First State Investments (Hong Kong) Ltd
Free Net
Freehills
Fullerton Fund Management
GAM International Mgm Ltd
Goldman Sachs (Asia) L.L.C
Goodbody Ireland
Government of Singapore Investment Corp
Hamon Investment Group
Hasting Council NSW
Havas Worldwide
Hewlett Packard
HSBC Global Asset Management
Huawei China
Hutchison Telecoms
IBM Ltd
IIB Queensland Govt
Invesco Hong Kong Ltd
IPANZ
IQPS
JF Asset Management
John Fairfax Holdings
JP Morgan
Krone (Australia) Technique
Lake Macquarie Council
Legg Mason Hong Kong Asset Management
Lend Lease
Lion Global Investors Ltd
Local Councils Perth
Logica Pty Ltd
Lucent Technology
M2
Macquarie Corp. Telecoms
Magna Systems & Engineering
Mainspring (IBM) USA
Marathon Asset Management
Martin Currie Investment Management Ltd
McDonald Monahan Assoc.
McKinsey
MFS Investment Management
Ministry of Economic Affairs the Netherlands
Mondrian Investm Partners Ltd
Morgans
Morgan Stanley Investment Management Co
National Australia Bank
National Telecoms Group
NEC Australia
Netcare Corp
Netegrity
Newbridge
Newsat
New Zealand Government (Ultra Fast Broadband Network)
NEZU Asia Ltd
Nokia
Nomura Asset Management
Norwood
Obama Transition Team (National Broadband Plan)
OCH-ZIFF Capital Management
Optecom
Optus
Oracle Corporation
Orbis Investment Advisory Ltd
Ord Minnett
Parliament House Canb.
PICTET Asset Mngm  Ltd
Pihana Pacific
Places Victoria
PriceWaterhouseCoopers
Recognition
RFS Australia
Royal Bank of Canada
Rural Press
SA Government
Schroder Investment Management (Singapore) Ltd
Siebel Inc (Hong Kong, Singapore, Australia)
Siemens Australia
Sony
Sumitomo Mitsui Asset Management Co
Sybase Australia
Telecom New Zealand
Telco7
Telstra Corporation
The L.E.K. Partnership
The Rowland Company
T.Rowe Price
Treasury Asia Asset Mngm
Trident Subsea Cable
TT International
Unisys
Urban Growth NSW
Utilux
Visionstream
Wagga Wagga Council
Western Power
Westpac Bank
Woolworths
Wyong Council
ZTE China